How To: EKG Simulator Quick Manual
The quick rundown of our Pro and Free ECG Generator and how to use it for study and simulation.

Dialed Medics EKG Simulator has four modes: Study, Flashcard, Quiz (Pro), and Simulation (Pro), as well as two display options: Monitor and Tracing.
🖱️
Start by selecting a mode in the upper left with the "Mode" drop-down.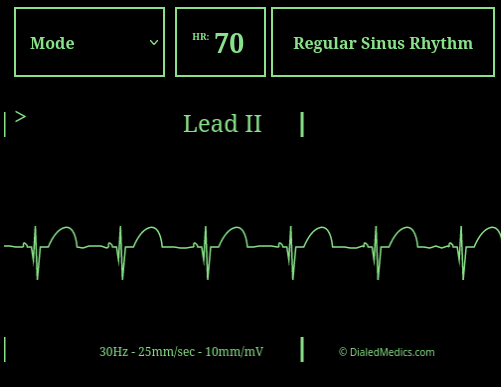 EKG Generator Modes
Once a mode has been selected the menu bar will appear with further options just below the EKG display. The options available depend on which mode has been selected.
🖱️
Click or tap directly on the tracing to pause playback anytime.
Study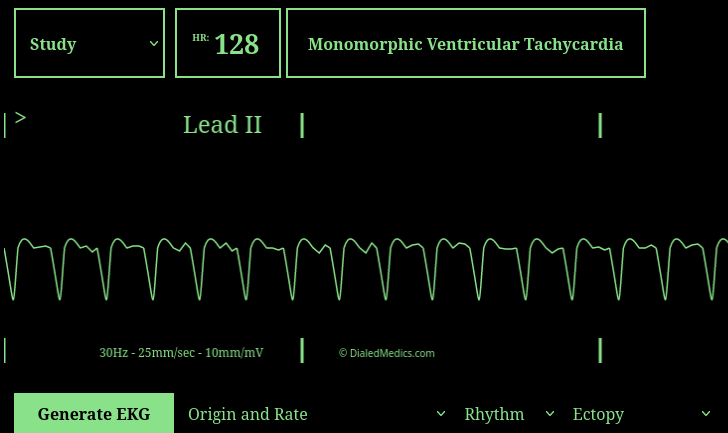 The Study Mode menu will be displayed below the ECG tracing with drop-down boxes to select different attributes. Once a rhythm is selected, click or tap "Generate EKG" and the rhythm will be displayed. The name of the selected rhythm will appear above the tracing and next to the Heart Rate (HR) indicator. A description of the selected rhythm will also be provided in the content section below the lower menu bar.
---
Flashcard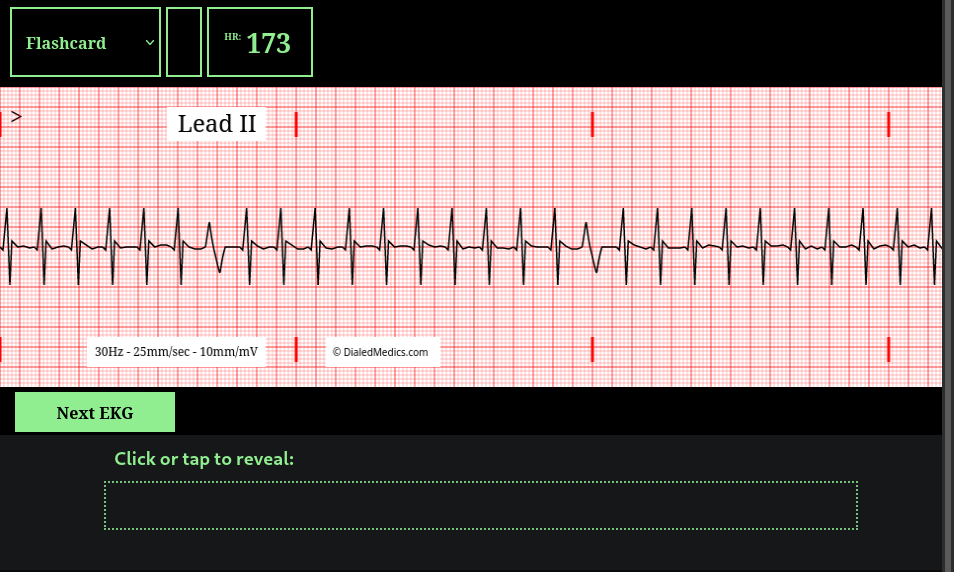 Flashcard Mode displays a random EKG and hides the rhythm name until the user clicks or taps to reveal it.
---
Quiz (Pro)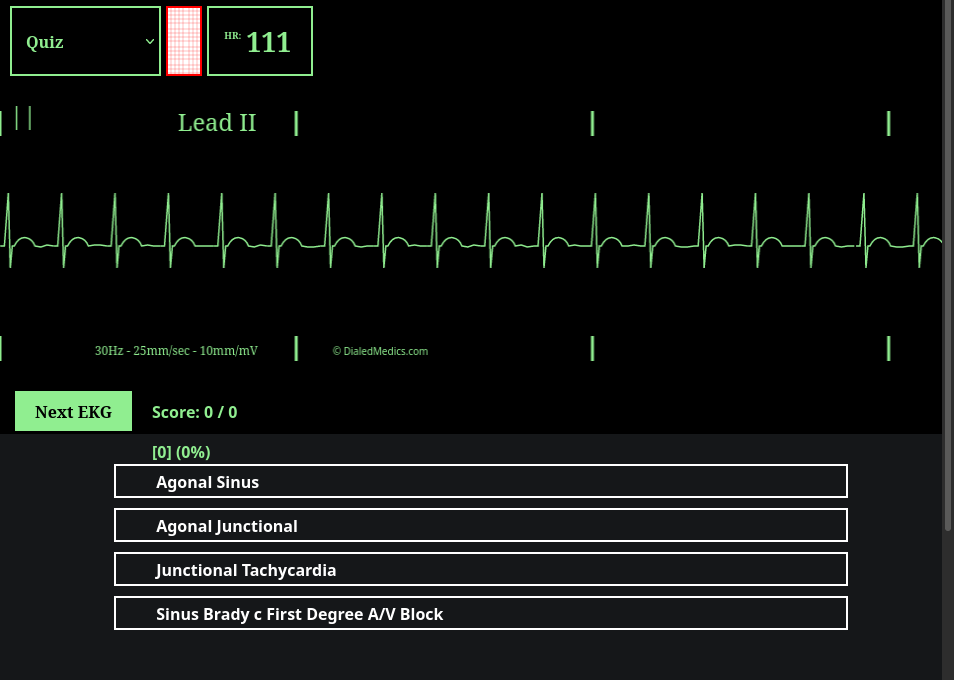 Quiz Mode provides users with a multiple choice test interface. "Next EKG" generates a random EKG tracing and four multiple choice options. Users can click or tap their response and a running score is displayed.
---
Simulation (Pro)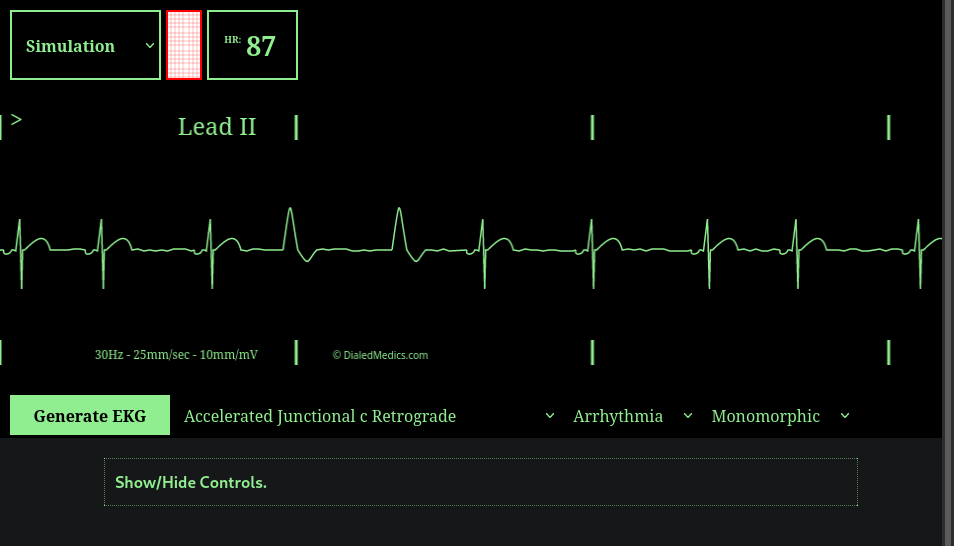 The Simulation Mode interface has the same menu as Study Mode. In the content area below that, a user can tap "Show/Hide Controls" to hide the menu bar. Hiding the menu leaves the display without the rhythm name visible. The tracing can then be shown to a student for interpretation without the name displayed.
---
ECG Display Options (Pro)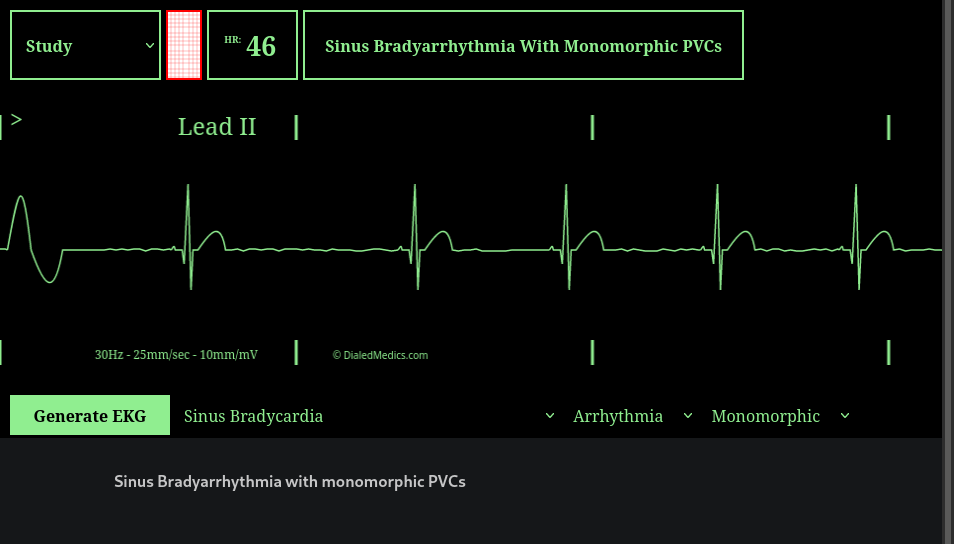 Our Free EKG Generator displays tracings on a simulation of a cardiac monitor screen. With the Pro EKG Generator users can switch between a simulated EKG graph paper printout and the standard monitor display. Both are displayed at a standard 25mm/sec and 10mm/mv with three second timing marks.

Monitor Display
Green tracing on a black background.
Click/Tap to pause/play.
Tracing Display
Black tracing on EKG graph paper background.
0.04 light red grid and 0.20 dark red grid.
---
Purchase Pro EKG Generator!
🚑
The Pro EKG generator includes over 40 rhythms, a printed tracing display on graph paper, polymorphic ectopy, quiz and simulation modes, and more!
Try the EKG generator now, free!
🚑
Our free EKG generator covers nine basic rhythms including all of the rhythm types tested in the American Heart Association (AHA) Advanced Cardiovascular Life Support (ACLS) class. Sign up with just an email!
For other questions: